Originally published by Safe Routes to School National Partnership
What the US Department of Transportation chooses to measure has an impact on which transportation projects get built in uour state and community—and on your ability to feel safe while walking and bicycling to school and in your neighborhood.
Several years ago, in the MAP-21 transportation law, Congress charged the USDOT with creating a system of performance measures for which state departments of transportation (DOTs) and major metropolitan areas will set goals for improvement – and then fund and build transportation projects that make progress towards those goals.
Unfortunately, in the newest batch of proposed performance measures, the US Department of Transportation is saying that what matters is moving as many cars as quickly as possible—and that people walking, bicycling, and taking transit aren't even worth counting.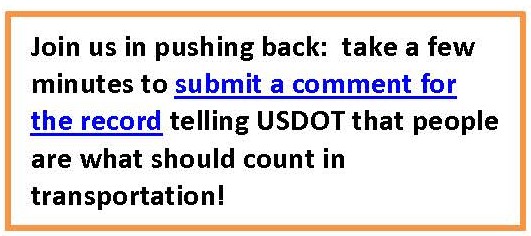 The draft rule proposes to measure the "performance" of our transportation system as well as congestion and freight movement by counting how fast cars are moving. There are eight proposed measures—and seven of them exclusively look at the speed of cars and trucks or traffic delays on major roads, many of which bisect small towns or are critical thoroughfares in our cities. (The eighth is about traffic-related air pollution.)
Why is this focus on speed to the exclusion of all else an issue? read more…